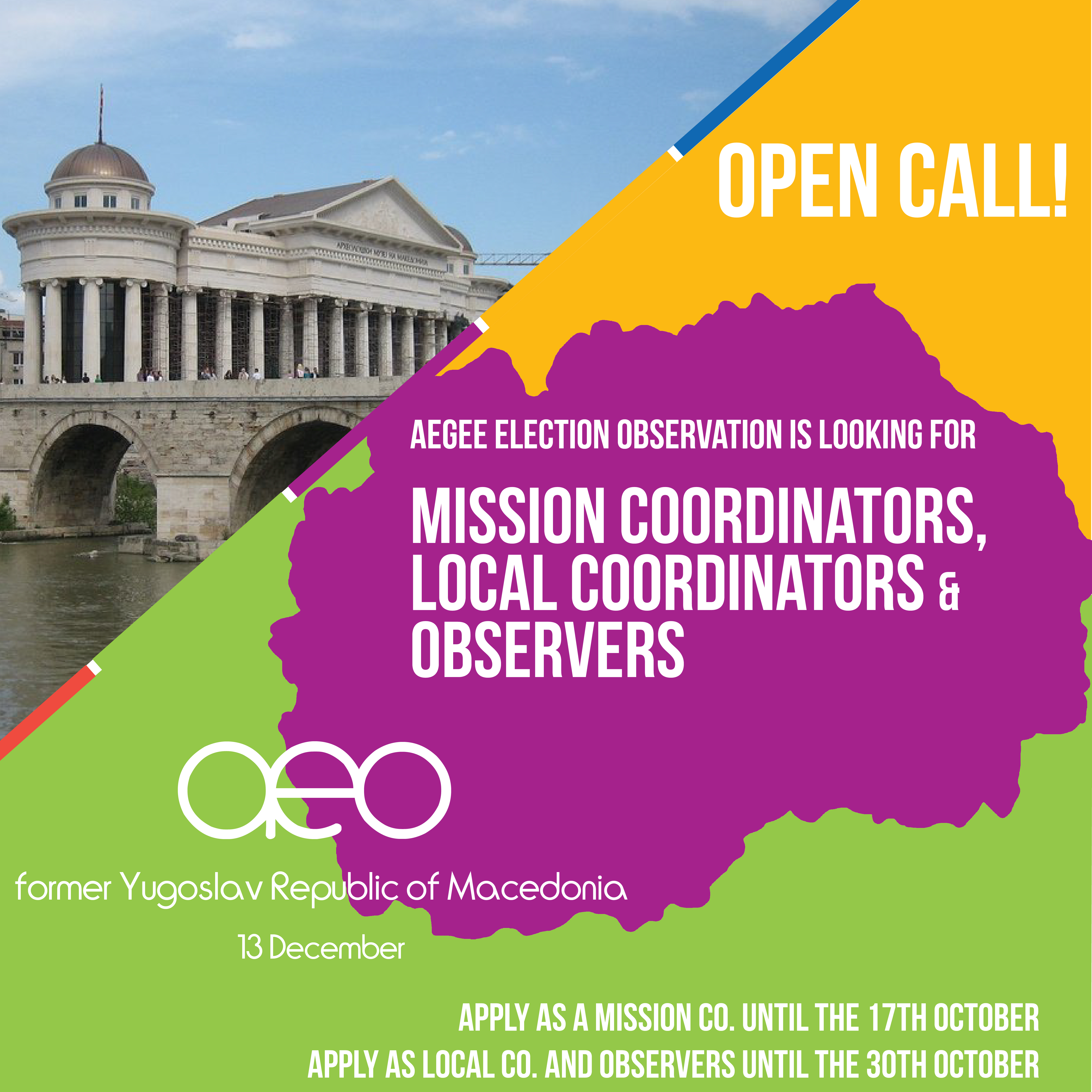 Mission to the Former Yugoslav Republic of Macedonia – Call for Local Coordinators
The parliamentary elections in the former Yugoslav Republic of Macedonia are scheduled for 11th December 2016. To support the deployment of the AEGEE Election Observation Mission in the country, applicants residing in the former Yugoslav Republic of Macedonia who are familiar with the country or one of its regions, and are interested in the topics of youth engagement in elections and election observation, are invited to join the mission as Local Coordinators.
AEGEE Election Observation will deploy its mission – composed of 24 young observers, 3 Mission Coordinators and 2 Core Team Members from all over Europe – in different locations throughout the country from 7 to 13 December. The preliminary deployment agenda is as follows:
7 to 9 December in Skopje (for preparation);

10 and 11 December in different locations across the former Yugoslav Republic of Macedonia (for observation during Election Day);

12 and 13 December in Skopje (for debriefing).
Important: The locations for observation depend on the availability of Local Coordinators. Suggestions from applicants are also very welcome.
Local Coordinators are appointed to support the mission in the following aspects:
accommodation – preferably provided for free;

orientation – support with travel arrangements across the country, as well as with input on the local context;

interpretation – securing the availability of young volunteers who speak both English and Macedonian to help observers communicate with electoral staff, voters and candidates on 11 December;

background research and accreditation – we hope that local coordinators will get involved in helping out with research tasks and accreditation procedures
Additionally, in Skopje, Local Coordinators ideally should be able to help with:
free accommodation for all of the short-term observers;

free meeting spaces;

organisation of social activities and advice on local transport;

local fundraising and the organisation of meetings with political stakeholders, interlocutors from youth organisations, civil society and with young political candidates or activists.
Most of the work should be completed by the end of November. This means that as a Local Coordinator, successful applicants will have to accomplish their most important tasks before the deployment of the mission. However, availability during the weekend of the mission's deployment would be appreciated, so that Local Coordinators could meet with observers and help them in case they have any questions or difficulties.
Requirements
In order to become a Local Coordinator for the AEGEE Election Observation Mission, the following criteria must be fulfilled:
be between 18 and 30 years old;

have a sound command of both English and Macedonian;

have a solid knowledge of the country and especially of the local environment in which the applicant is based.
Naturally, this profile favours citizens of the former Yugoslav Republic of Macedonia, but applications from international volunteers residing in the country who fulfil the criteria are welcome as well.
Application Procedure
Please fill in the application form by Friday, 11th November 2016, at 23:59 CET.
For any questions, please e-mail the AEGEE Election Observation Missions and Methodology Advisor in charge, Dessi, at dessi.hristova@aegee.org