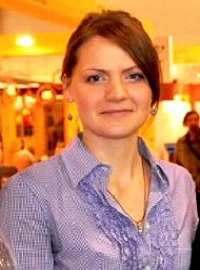 Maryia Anishchankava
ESE Las-Palmas officer

Maryia was born in Minsk, Belarus, where she got her first higher education in Intercultural Communications and Foreign Languages.
In 2009 she moved to Italy where she obtained her 2nd degree in International Commerce at the University of Verona.
In 2011 she won a scholarship and passed a semester at the University of Richmond, VA, USA, where while being an exchange student she worked as a tutor of Russian and Italian.
In 2013 together with a group of dedicated Belarusians Maryia co-founded an NGO – Global Belarusian Leaders (http://belarusianleaders.org/) which aims to promote Belarus and unite Belarusians all around the world.
In this same year her AEGEEan experience started. Together with Larisa Smajlagic (current president of AEGEE-Verona) Maryia aimed to restore AEGEE-Verona which now counts of 23 members.
Maryia is vice-presindent of AEGEE-Verona and now actively dedicates her time to promotion and development on the Antennae. She participates in Hang-outs, local meetings and European conferences.